Tools
From GMod Wiki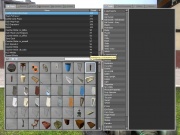 Tools Area
The Tools Area (part of the Game Menu) contains various tools to help you build cars, castles, catapults and various other contraptions.
The Tools Area is used to decide what toolmode to equip to the Toolgun. The Toolgun is one of four main tools used in Garry's Mod, the others being:
Physics Gun: Allows you to manipulate any spawned prop.
Gravity Gun: Used to attract and throw objects
Camera: Allows you to take screenshots from any angle.
The Tools
Here you can find a description of the basic use, applications, and nuances of every toolmode.
There are 4 types of toolmodes:
Constraint tools
Construction tools
Posing tools
Changes the direction a ragdoll's eyes are looking.

Modifies the expression of an NPC or ragdoll's face.

Allows you to move a ragdoll's fingers.

Freezes a ragdoll in their current pose. Useful if you want to move a ragdoll somewhere without messing up its pose.

Inflate or deflate portions of a ragdoll.
Render (Visual) tools
Colorizes entities.

Changes the material of an entity.

Places viewable cameras.

Sprays sprites across a surface.

Places the render target camera. This is a server-wide camera everyone can see.




Make an entity emit trails when it is moved