Vehicles Menu
From GMod Wiki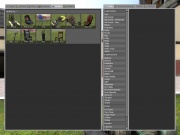 Vehicles Menu
The Vehicles Menu is part of the Game Menu and it is where you can spawn drivable vehicles for your game.
Available Vehicles
Garry's Mod comes with a wide selection of vehicles as default:
Airboat
Airboat Seat
Chair
Jalopy
Jeep
Jeep Seat
Office Chair (1)
Office Chair (2)
Pod
Wooden Chair
There are also a large number of custom vehicles available form other sources such as http://garrysmod.org.
Common Uses
Vehicles are useful for traversing large maps but also can be modified by welding props to them (e.g. turrets, metal plating) or colouring them using the Paint Tool.

Tip:
A method of modification is using the
No Collide Tool
's secondary fire on the vehicle, then moving an object (e.g. toilet, plastic chair, Dr Kleiner) to the space where the seat is.
The objects is welded to the vehicle and the Paint Tool sets the vehicle's opaque factor to zero. This, combined with the No Collide, effectively makes the vehicle invisible. This results in an illusion that makes the player appear to "drive" the object.