Weapons Menu
From GMod Wiki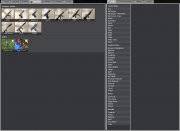 Weapons Menu
With the Weapons Menu, found in the Game Menu, you can spawn scripted weapons (weapons coded in Lua).
Available Weapons
Garry's Mod comes with one weapon in this menu, The Manhack Gun. Other weapons become available when you mount other games:
Half Life 2: Episode 2
Counter-Strike: Source
AK47
Desert Eagle
FiveSeven
Glock
M16
MP5
Para
Pump Shotgun
TMP
MAC-10
More weapons are available in weapon packs (from places like http://garrysmod.org) or from the huge selection of user submitted scripted weapons in the Toybox Menu.
Using Scripted Weapons
Left-clicking any weapon will arm the player with that weapon.
Right-clicking any weapon will spawn it where the cross-hair is aimed in-game. Walking over the spawned weapon will arm you with it, or give ammunition if you already have it.
Additional Notes
If a server that you are playing on does not have the weapon you are trying to spawn, clicking it's spawn icon will not spawn it.