Cameras
From GMod Wiki
| | |
| --- | --- |
| Type: | Visual tool |
| Primary fire: | Spawn a camera. |
| Secondary fire: | No action |
| Notes: | |
Brief
Spawns a camera.
Instructions
The camera tool in Garry's Mod 10 is pretty easy to use. Here is a step by step guide to setting up a camera.
Go to the menu by holding down "Q" and selecting Cameras at the bottom of the Tools tab.
Select a keypad Button that you want to use to toggle the view of this camera.
Move to the position, so that you are viewing where you what the camera to view ( This position can be easily modified by the phys gun.)
Click when you are finally ready, a camera should spawn in your position. You're done.
If the camera is being used to view a moving vehicle, weld the camera to any part of the vehicle, and it will move along with it.
Variables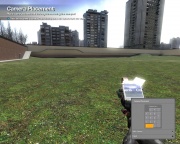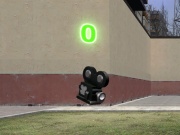 View Camera (Key Selector)

When the highlighted key is pressed, the user's view changes to the camera's view.

Static (Check Box)

Toggles whether the camera is immobile or mobile. It keeps people from moving your cameras around. However, if you weld something to a static camera, it won't be able to move either.

Toggle (Check Box)

When checked, pressing the trigger key will switch to the camera's view, and pressing the trigger key again will return. When toggle is unchecked, a player must hold the "View Camera" key that they assigned to the camera to keep the camera up.
Useful hints
The RT Camera is completely different, a normal camera is much better if you don't know what you're doing.
The camera tool is useful for creating third person modes on vehicles.
A camera is easier to position when noclipping. Noclip ("V" key by default) to the position you want your camera to be then look at the location you want the camera to be focused on. The camera will spawn so that its view is almost exactly the same as your current view.
Using buttons, other people can use your cameras as well. The only catch is, if their player quits looking at the button, they can no longer exit from the camera, unless they navigate back to the button. In order to fix this, turn the toggle variable off. As soon as players walk or move out of range of a button, or release the use key, they will quit using the camera.