Toybox
From GMod Wiki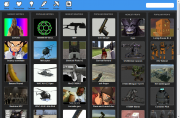 Toybox is a new feature to Garry's Mod that allows the download of entities, weapons, props and maps from the cloud as well as allowing users to save their games there too. Users can also upload their own entities, weapons, props and maps at http://toybox.garrysmod.com/.

Toybox was announced on July 29th 2010 (then referred to as "Cloudscript") by Garry Newman on his personal blog (See Post). It is a free service to anyone with a valid copy of Garry's Mod registered to a Steam account, which is automatically validated in-game, or through the Steam login service with normal browsers.

Players can also rate and comment on items in the Toybox, as well as picking favourites. When hovering over item thumbnails, players can:
Read details about the item, including a short description, number of downloads and file size.
Clicking on the name of an item will reveal a series of information such as: a description, comments by other users, items contained in the download, and any code used in making it, among other things.

The in-game area of Toybox is split into two sections, which are accessible from two different places. Maps are accessible from the New Game Dialog, through the Start New Game option on the main menu. Entities, weapons, props and saves are accessible from the Game Menu.
New Game Dialog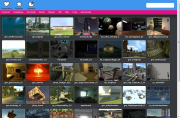 When players click Start New Game on the main menu they see the New Game dialog with two tabs, one reading Maps and one reading Toybox.
The Maps tab contains all the maps installed on the users computer.
The Toybox tab displays the maps available from the cloud on the Toybox service, for download and play. They are organised into 9 categories:
Construct - Maps designed for building and construction
Roleplaying - Maps designed for roleplaying
Eye Candy - Maps designed for making comics or movies
Puzzle - Maps designed with puzzles or challenges
Physics - Maps designed for physics puzzles etc
WIP - Maps that are currently a work-in-progress
Rats - Maps that make the player feel tiny sized (like rats)
Co-op - Maps designed for 2 (or more) players
Gamemode - Maps designed for a specific gamemode
There are also filters for the newest and most popular maps, as well as the users personal favourites.

When a player selects a map (by clicking on its thumbnail) the map downloads and installs automatically on their computer. Once this is complete, the map is available to be played (and is also added to the Maps tab for later use).
View the available maps here.
Game Menu
See: Toybox Menu
See also